Teach kids about gratitude with these fun "Thank you!" projects.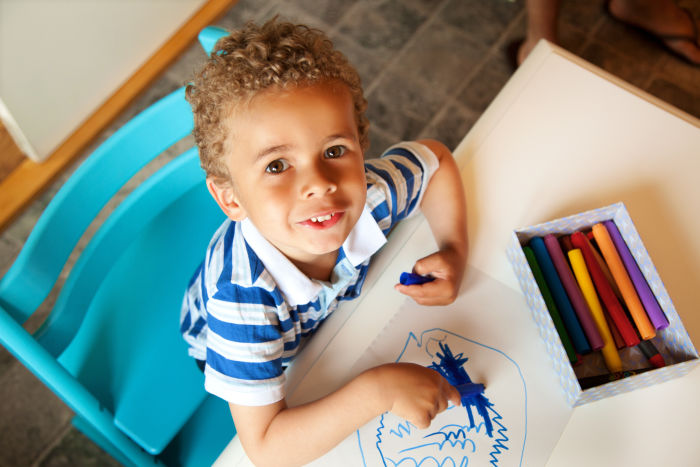 Where did the time go? The gifts have been given, the presents unwrapped, and the holiday meal eaten. It's hard to believe the holidays are over and a new year will soon begin.
Even though schools are closed for winter break, you can still keep your little ones busy and engaged by spending a few moments over the next few days saying thank you to all of those who gave them gifts this season.
There are so many ways to say thank you these days, from old-fashioned phone calls, to text messages, eCards, and best of all, hand-written thank you notes sent in the mail. So if you're looking for a fun way to occupy your children's free time while teaching them a lesson in gratitude, try one of these 5 fun ways to say thank you.
1. The Artistic Touch 
Get out the crayons, paper, scissors, markers, paints and more. Your child can make his own thank you drawing. Encourage him to draw a picture of the gift or of your child playing with the gift. Another great way to decorate a card is to take a picture of your child with the gift, print it out and glue it to a card. For little ones have them draw a smiling face inside the card to show their gratitude.
2. Social Media 
Use technology. Post on their Facebook wall, or send a private message to the gift giver with a photo of your child with the gift. Your child can make a sign that says thank you and hold it up for the camera. You can also Skype or FaceTime the gift giver and say thanks, demonstrate how your child is playing with the gift, or sing a song of thanks together.
3. Give Back 
Keep your child busy by making some thank you treats in the New Year. It could be fun to make cookies that spell out "Thank you" to give to those who gave to them.
4. Visiting 
What's better than a thank you note? An in-person thank you, of course! Invite friends, family, or neighbors by for a cup of eggnog or hot chocolate, and thank them for their generosity. If grandma and grandpa don't live too far away, plan a visit and spend some time with them over the coming days.
5. Pay It Forward 
Bring your child along with you to drop groceries off at a local food pantry, bake dog biscuits for an animal rescue, or spend time sorting through toys that she can donate to a charity organization. It will teach her how good it feels to give as well as receive.
These fun activities are easy to do and will keep your kids busy after all of the excitement of the holidays. Your child will also develop an understanding of gratitude and make important connections to family and friends.
Visit us on Facebook and share your family's favorite ways of saying thanks.