Stress is contagious. Here's how to minimize holiday meltdowns.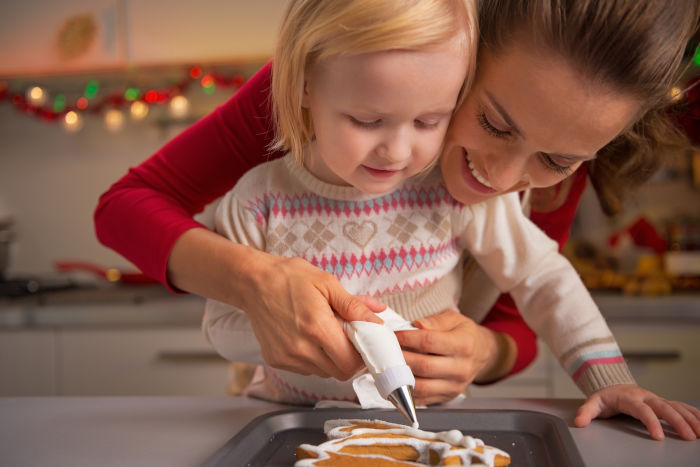 It's that time of year again! The kids are off from school, relatives are coming to visit, and your to-do list is getting longer and longer. It's easy to feel the stress building along with the holiday excitement, and it can be very tiring. Our little ones pick up on the anticipation and excitement, but unfortunately, they also pick up on the stress, too.
Research shows that increased stress can disrupt brain functions that support thinking, learning, and emotions. It can also lead to lack of sleep and other issues. In fact, a study by the University of British Columbia and Stanford University in 2011, details the adverse effects that parental stress can have on a child's development. But don't worry! There are things you can do this holiday to reduce stress for everyone in the family.
1. Prioritize Yourself
Think about what stresses you the most: food preparation, an in-law's visit, shopping, etc. Make a plan to cope with the things you can control such as the shopping. Break it down into manageable excursions and give yourself a break during the day. Take time to relax too, whether it's going for a run, reading a book, or soaking in the tub. Schedule small moments to clear your head, and in the end, it'll make you more joyful.
2. Make Realistic Plans
There are so many things to do during the holidays. Get out your calendar and discuss with your family what you would like to do together: tree lighting, visiting friends, school concerts, and parties could all go on the list. You'll find out what is most important to everyone, even your little ones. Prioritize the list with the family and cut out some less essential activities if it's just too much.
3. Stick to a Budget
Most often it's the financial stress that escalates during the holidays, and kids pick up on this. Tackle this by creating a budget for the season, and stick to it! Make a list of expenses and people you must shop for, and set a dollar amount your family can manage. Older children can practice this, too. It's a great learning experience. Remember, it's the memories and time you spend together that you will all cherish in the long run, not the things you gave or received.
4. Share the Small Tasks
Sharing your to-do list can create new memories and start family traditions. Cook food together that can be prepared ahead of time, frozen, and ready to heat for holiday meals. Decorate together and take photos of the process. Write greeting cards or wrap gifts together. Doing these small tasks as a family can be fun and help reduce stress.
5. Delegate the Big Tasks
Don't try to do it all yourself. Let everyone know what tasks you can take on and what areas you'll need help in. Ask the family what things they would like to do and let them do it. They may not do things exactly how you would, but remember, it's one less thing to worry about. Realizing you will need some extra help and asking for it will certainly reduce stress during the holidays and make the season more enjoyable.
In the meantime, take a deep breath, go for a walk, and think about the days ahead. Try not to strive for perfection, and try to enjoy the journey as much as the destination.
Share your ideas and tips for having a stress-free holiday with us on Facebook. We'd love to hear from you!