A handy reading list to introduce concepts of diversity and tolerance.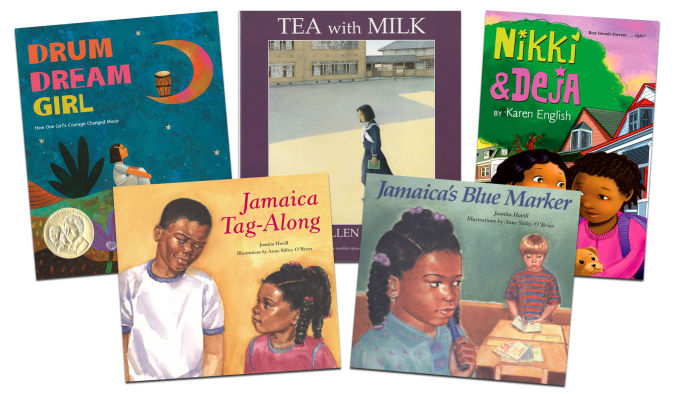 The multiculturalism represented by children in today's classrooms presents a wonderful opportunity for teachers and parents to spark conversations about diversity. Children begin to notice gender and physical differences in each other when they are as young as two years old. The early years are the perfect time to begin teaching tolerance, understanding, and acceptance of these differences.
One effective method for teaching the concepts of diversity, tolerance, empathy, and acceptance is through sharing stories. Children make connections to their own lives when they read or listen to books about other people, how they are similar, how they are different, and how they solve problems.
Here is a list of ten wonderful books, many featuring characters of color, that will help your child to value our collective diversity:
1. Whoever You Are by Mem Fox (PreK‒3)
Beautifully illustrated, this book sends the message we are all the same under our skin. Kids explore the lives of other children around the world. It is a terrific book to explain that while we may be different, we all share the same feelings of love, joy, sorrow, and friendship.
2. Nikki and Deja by Karen English (PreK‒3)
Two friends learn how their behavior towards another girl can have unfortunate repercussions. This story is humorous at times and guides children through the ups and downs of friendship.
3. The Skin You Live In by Michael Tyler (PreK‒2)
Sing and laugh with your child while reading the rhyming verses throughout this book. The message in this delightful read-aloud is that while we may look different on the outside, we have many similarities on the inside!
4. Jamaica and Brianna by Juanita Havill (PreK‒3)
This story helps children cope with jealousy and build an understanding that we can't all have the same things. It also illustrates how words can hurt. The two girls in the story learn a valuable lesson about friendship.
5. Jamaica's Blue Marker by Juanita Havill (PreK‒3)
We meet Jamaica again. This time she is at school. She is very friendly, but not to Russell who is mean. She soon learns more about Russell and why he acts out. This story will help your child to consider her own behavior and that of children around her.
6. Drum Dream Girl by Margarita Engle (PreK‒3)
This beautiful picture book is perfect for both boys and girls. It illustrates how children were treated differently in history. It also shows how courage can help a person realize her dreams. The sharing of music at the end is magical.
7. Jamaica Tag-Along by Juanita Havill (PreK‒3)
Our friend Jamaica is back with a story which all children can relate to. Jamaica doesn't want a younger child to play with her and becomes angry with him. She changes her mind when she thinks about how she felt when her older brother wouldn't play with her.
8. The Name Jar by Yangsook Choi (PreK‒3)
Sometimes children have a hard time pronouncing another child's name. In this story, children learn that when they tease others about their names, clothing, or appearance, it can hurt feelings. This is a great book for helping kids learn about other cultures and the value of friendship.
9. Tea with Milk by Allen Say (PreK‒3)
May is a young woman who grew up in San Francisco. At home with her family, she speaks Japanese, eats rice and miso soup, and drinks green tea. When she visits her friends' homes she eats fried chicken and spaghetti. This is a wonderful, classic story that can help your child appreciate cultural traditions, as well as the feelings of people who immigrate.
10. One Green Apple by Eve (K‒3)
A young Muslim girl and her classmates learn that by helping each other, no matter their differences, they can create something very special. Your child will learn about other cultures and acceptance.
Share with us on Facebook your family's favorite stories for teaching tolerance and acceptance!