Turn your backyard into a learning laboratory.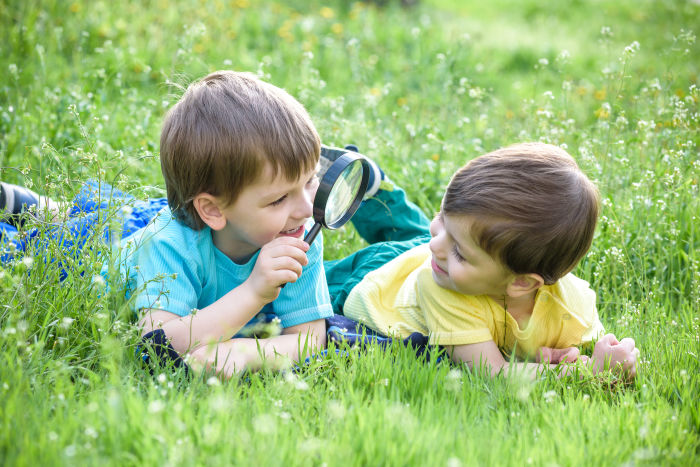 We all want to provide our children with the best possible environments and opportunities to learn and succeed. In recent years, there has been a debate about learning in the classroom versus the great outdoors. Children are curious and they love to explore. It is a very special moment when a child is excited about discovery, and it makes sense that an outdoor learning environment with less structure could encourage that curiosity and help them flourish as learners.
A study from King's College London found that children who spend time learning in natural environments "perform better in reading, mathematics, science and social studies". Learning experiences outside the traditional classroom provide unique opportunities for students to gain social and developmental skills, so what can parents do?
Whether your children have reached school-age or not, think about taking playtime with them outdoors. This is a great way to encourage their adventurous and curious nature, bond with them, and help them learn along the way.
Here are six ways to help you develop learning experiences with young children in the great outdoors:
Leaf Hunt
Go on a leaf hunt and name the leaves. Not your specialty? No problem! Print out this leaf hunt chart and let the fun begin. Not only will you be exploring the wild together but you may also learn something new yourself on this adventure.
Backyard Campout
Don't have time to go out into the woods? Just pitch a tent right in your backyard! Not only is it a change of scenery, but you can create nature inspired games and even count the stars together at night.
Nature Collage
Give your children the freedom to explore the front yard or even a nearby park and collect artifacts in nature. Using their very own findings, your children can get in touch with their creative side and create their very own piece of natural art.
Outdoor Math
Make math fun by taking homework to the backyard and using the outdoors to help develop concepts. Need to practice adding or subtracting? Try counting artifacts such as sticks or bugs to make math fun!
Sound Safari
Make this chart for your children and take them on a walk to find the sounds you have listed! Every time your child hears the corresponding sound, add a star to the worksheet.
Just Get Outside
Put down the electronic devices and go outside. We tell our kids to play outside but there is no reason to separate playtime and learning time. In fact, learning happens much more naturally when children are having fun!
Learning outside can enrich any subject and make a topic more relevant for children. It helps them get excited and engaged, so let's try to give them more opportunities for this to happen.
Share with us on Facebook how your family explores learning in the great outdoors!
This blog post was originally published on The Spark.