Spark early creativity and exploration through simple home activities.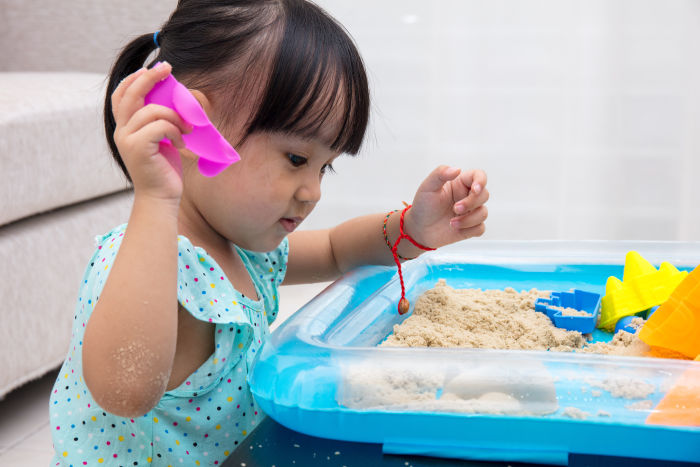 The STEAM movement has taken root in our culture over the past several years. You may be aware of the acronym, but wonder what it means. STEAM stands for Science, Technology, Engineering, Arts, and Math—all essential skill areas for our children and their future. It is also about teaching children to integrate their knowledge across these disciplines and apply learned skills to new experiences. It means a great deal of fun, play, experimenting, creating, taking risks, and sharing ideas. Introducing STEAM skills and activities early encourages young minds and taps into their natural curiosity.
The United States Department of Labor has noted that STEM (STEAM) career opportunities are growing rapidly including: civil engineering, computer engineering, computer science, electrical engineering, mechanical engineering, information sciences and systems, accounting, and economics and finance. STEAM will no doubt be a part of our children's futures, and it is never too early to begin to develop the skills needed for these jobs and interests. Parents, educators and caregivers can encourage curiosity in young learners each day.
So, how can parents make STEAM learning fun? Remember the days of making something for the science fair, creating art projects as gifts for the holidays, building forts outdoors or in your living room, carving your first pumpkin, and more? While you were busy playing you were developing these essentials STEAM skills. There is a renewed focus on the power of these activities to engage children, spark creativity and inspire exploration.
Here are some ideas to get you started. Each one focuses on one area but integrates some of the other STEAM skills.
Science
Have some fizzy fun! Make a safe and colorful chemical reaction with a bottle of vinegar and a bit of baking soda, and watch the kids' eyes light up with wonder.
Technology
Try an Internet search for a favorite song and share that song with a grandparent or friends, or learn to use an educational app like Curious World.
Engineering
It's tinker time. Get out recycled materials, blocks, sand, rocks, water, and more. See what you can create by combining these materials through loose parts play.
Arts
Make a model of our solar system by painting Styrofoam balls. Or create magical letters by drawing with white crayon on white paper and painting over the crayon with watercolors. Watch the letters appear!
Math
Take a walk outside, talk about what you see, and sharpen those observation skills. Count the big trees, red flowers and yellow leaves in the yard. Sort the leaves by size and shape.
Children are natural STEAM learners, and parents can maximize learning experiences by offering encouragement, providing opportunities for investigation, asking lots of WHAT questions and supporting children's own initiatives. So dive into STEAM with the activities above—they may be a bit messy, but I guarantee you'll have fun!
Share with us on Facebook how you family practices STEAM learning at home!
This blog post was originally published on The Spark.