Build your child's home library with these timeless additions.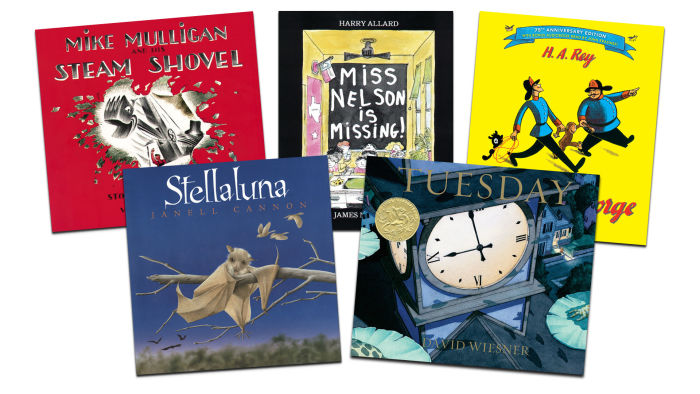 We all want our children to succeed at reading and to grow up with a love of literature, and one of the best ways to encourage this is through early exposure to books.
Most parents know that it's important to read to our children daily, even before they can speak, but there are also early reading initiatives such as 1000 Books Before Kindergarten that stress the importance of volume and variety when it comes early literacy. In fact, a study from researchers at the University of Nevada, published in the journal Research in Social Stratification and Mobility, concluded that the number of books in a child's home "has substantial effect on their future educational attainment." In other words, the more books in a child's home library, the more likely that child will succeed in school.
If you want to grow your child's home library and you're looking for a good place to start, you can't go wrong with classic picture books. These are beloved books that have stood the test of time, including many award-winners. The stunning illustrations will engage even the littlest readers, while the timeless tales will enchant children for years to come.
Here is a list of 10 must-have picture books for building your child's home library:
1. Goodnight Moon by Margaret Wise Brown (Pre-K–3)
A short poem of goodnight wishes from a young rabbit preparing for—or attempting to postpone—his own slumber. He says goodnight to every object in sight and within earshot, including the "quiet old lady whispering hush."
2. Curious George by H.A. Rey (Pre-K–3)
In this original book about the beloved monkey, Curious George is taken from the jungle by the man in the yellow hat to live in a new home, but--oh, what happened?! Though trying to be good, George is still very curious and takes a swim in the ocean, escapes from jail, and goes for a flying ride on a bunch of balloons.
3. Where the Wild Things Are by Maurice Sendak (Pre-K–3)
Winner of the 1964 Caldecott Medal for the Most Distinguished Picture Book of the Year, it became an iconic book that has inspired a movie, an opera, and the imagination of generations. It continues to be one of the best loved books of all time.
4. Mike Mulligan and His Steam Shovel by Virginia Lee Burton (Pre-K–3)
Mike and his trusty steam shovel, Mary Anne, dig deep canals for boats to travel through, cut mountain passes for trains, and hollow out cellars for city skyscrapers. When Mary Anne is destined for the scrap heap, the duo must dig their way out of trouble in this timeless tale of friendship, old-fashioned hard work, and ingenuity.
5. Corduroy by Don Freeman (Pre-K–3)
The endearing story of a teddy bear locked in a department store alone overnight, waiting on a store shelf for a child's friendship, has appealed to young readers generation after generation.
6. Tuesday by David Wiesner (Pre-K–3)
The unpredictable events of a particular Tuesday unroll before the reader with the precision and clarity of a silent movie. A Caldecott classic celebrating twenty years in print.
7. The Giving Tree by Shel Silverstein (Pre-K–3)
A tree starts out as a leafy playground, shade provider, and apple bearer for a rambunctious little boy. Making the boy happy makes the tree happy, but with time it becomes more challenging for the generous tree to meet his needs.
8. Stellaluna by Janell Cannon (Pre-K–3)
When young fruit bat Stellaluna is separated from her mother, she's adopted by a family of birds with very different habits in this award-winning and bestselling picture book classic.
9. The Little Engine That Could by Watty Piper (Pre-K–3)
The story of a train filled with toys and gifts for little boys and girls that breaks down before reaching the children. After asking several passing trains for help over the hill, a little blue train agrees to help the stranded toys. Even though she is small, the blue train tries her best to bring the toys to the children on the other side of the hill.
10. Miss Nelson is Missing! by Harry Allard (Pre-K–3)
The kids in Room 207 take advantage of their teacher's good nature until she disappears and they are faced with a substitute. First published in 1977 and still relevant today as a lighthearted reminder to show our appreciation to those we value.
Share with us on Facebook your family's favorite picture book classics!