A good book teaches kids about taking risks and trying new things.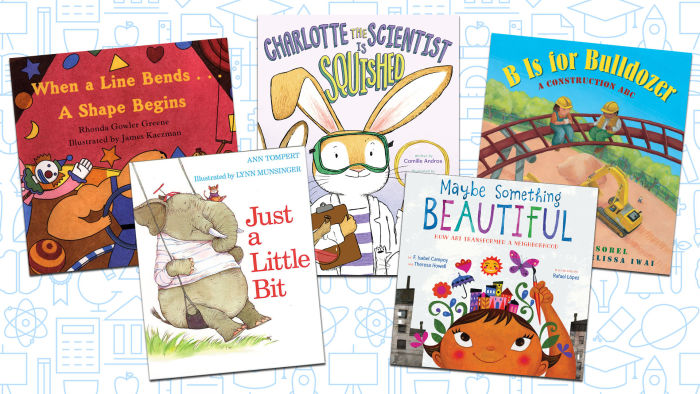 Over the past several years, social media, education blogs, and state education policies have been increasingly discussing STEM (Science, Technology, Engineering, and Math) topics. Today, even preschool and kindergarten teachers are required to incorporate these subjects into their programs. This isn't really anything new; it's more of a matter of being mindful of these skills as we connect with our children while they are playing.
Researchers, educators, and school districts have also realized that the creative skills in art and design help children learn to innovate. Thus, the STEM acronym has been expanded to become STEAM: Science, Technology, Engineering, Arts, and Mathematics. STEAM skills are as important as learning letters, sounds, colors, shapes, and numbers for school readiness. The question is how can we as parents incorporate activities that help children build these skills into our already busy routines?
 

"STEAM skills are as important as learning letters, sounds, colors, shapes, and numbers for school readiness."

 
One way to introduce STEAM learning is through literature. Everyone loves a good book, especially young children. As they are guided through the storytelling experience, children learn to recognize patterns in language, play and manipulate words, and acquire phonetic awareness. Stories also help children learn about taking risks and trying new things. The characters give children a framework to explore how things work and the world beyond their home. The books you select should include both fiction and non-fiction that cover a variety of interests, topics, and characters.
Create your own STEAM library at home. Here you'll find a few favorites to help you get started:
1. Curious George and the Dump Truck by Margret and H.A. Rey
This wonderful story helps children learn about nature, how dirt and sand can create an island, and how machines work, all while following Curious George on another adventure. eBook available in Curious World app!
2. Charlotte the Scientist is Squished by Camille Andros
Charlotte uses the scientific method to solve a family problem. With Charlotte as their guide, children learn the basics of inquiry, testing, prediction, and more.
3. Mike Mulligan and His Steam Shovel by Virginia Lee Burton
Mike and his wonderful bulldozer named Mary Anne help children explore engineering concepts behind building tunnels, skyscrapers, and deep canals.
4. A Butterfly Grows by Stephen Swinburne
Photography books like this one are perfect for providing children with images and stories about the natural world around them.
5. B is for Bulldozer by June Sobel
Your child can practice the alphabet and learn about the details of constructing a family park.
6. Maybe Something Beautiful by F. Isabel Campoy and Theresa Howell
Explore how art and design can effect an environment through this inspirational story. eBook available in Curious World app!
7. The Most Magnificent Thing by Ashley Spires
This is a story about creativity, technology, innovation, and perseverance. A little girl tinkers and tests and creates again in a book full of humor and fun!
8. What Do You Do With a Tail Like This? by Steve Jenkins and Robin Page
Children learn all about animals and the unique things their tails, mouths, noses, ears, and eyes can do.
9. When a Line Bends … A Shape Begins by Rhonda Gowler Greene
This engaging rhyming story invites children to get creative while building a knowledge of shapes to construct a variety of interesting designs.
10. Just a Little Bit by Ann Tompert
A very funny story about an elephant and a mouse on a seesaw. Children learn to experiment with balance, estimation, and movement.
Share with us on Facebook your family's favorite STEAM books.