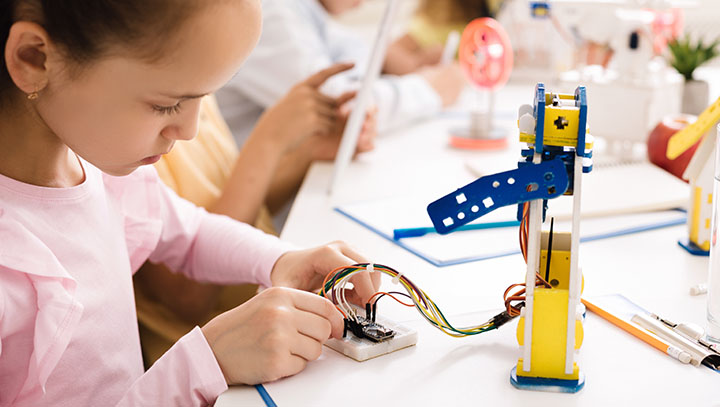 Why buy a science kit for kids? At Curious World, we believe that a sense of curiosity is healthy, and even encouraged. Whether your child is fascinated by nature, planets or making new things, all of their questions can be answered through fun educational methods.
Science is the perfect place to start for curious children - it is the subject where everything starts with a question. Many children learn through reading, some through listening, and many more through doing! This is why we have compiled a list of the most popular and highly rated science kits that you can buy now. This list has been categorised into the Biology, Chemistry, Physics and All Rounders to help you decide which you might find more educational, entertaining and engaging. 
Biology
For those curious about life, this biology science kit for kids will meet their questions and allow them to find the answers themselves. 
Momila Light-up Terrarium Kit for Kids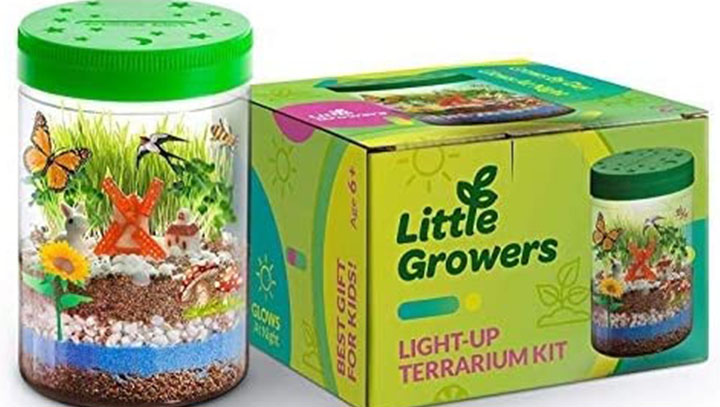 Kit Includes: 
Terrarium Jar

Light Up Jar Lid

Micro USB Charging Cable

Fresh Garden Soil

Blue Decorative Sand

White River Rocks

Wheatgrass Seeds

Chia Seeds

A Sheet of Stickers

Spray Bottle

Plastic Shovel

Miniatures: Bunny, Wind Mill, House
This terrarium kit is perfect for those who are interested in how ecosystems work. Grow your own little forest and see how your plants grow and flourish. This kit is excellent for teaching children about biology, patience, caring for others and so much more!
Beginners Microscope Science Kit for Kids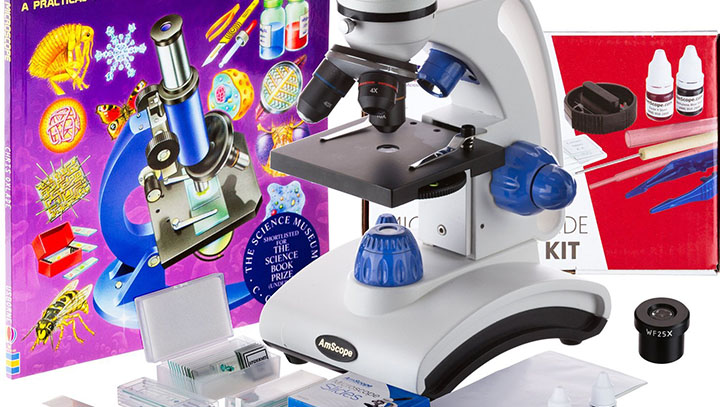 Optical Glass Monocular Compound Microscope with Top & Bottom LED Lights

40X-1000X Five Wide Field Magnifications

Sturdy Metal Frame with Coaxial Coarse & Fine Focusing

Single Lens Condenser and 6-Hole Disc Diaphragm

Dual LED Light for Both Slides and Opaque Subjects
Introduce your little ones to a whole new world - a miniature world - with this incredible microscope. There is literally an endless supply of things you can zoom in on and inspect, from the dirt in your garden, a piece of hair, food…
Chemistry
Reactions will be huge! For the kids and the experiments, they are performing. These child-friendly kits are ideal for those that love to learn by doing!
UNGLINGA Kids Science Experiment Kit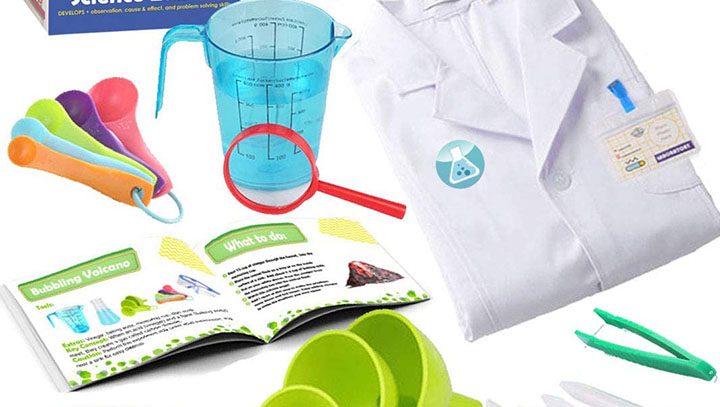 1x Lab Coat (140cm) 

1x name badge 

4x large test tubes with stand 

4x eyedropper 

3x funnels 

5x measuring spoons (random color) 

1x measuring cup 

1x plastic beaker 

1x magnifier 

1x safety glasses 

1x double-sided activity cards book
With this kit, you are ready to become a little scientist...The lab coat says it all! Including all the equipment you need to begin your experiments. You even have a book to tell you about what you can use and how to do it. 
Learning Resources Beaker Creatures Alien Experiment Lab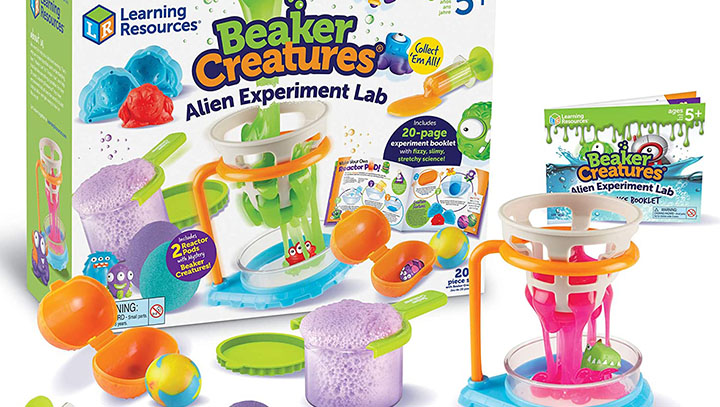 2-piece sieve strainer

2-piece creature mold

1-piece pod maker

2-piece container with lid

1 beaker

2-piece extruder

2 pods (with surprise creatures)

1 holder

1 poster

1 mini poster

1 lab book
If your child prefers to get a little silly and have tons of fun while they experiment, then this is the kit for you. Have fun experiments with your small alien friends and spark that lifelong love of learning. 
Physics 
Kids will be sure to gravitate towards these physics kits! They will be on another planet when they perform these fun and safe experiments. 
Fun Educational Building Toy Set for Boys and Girls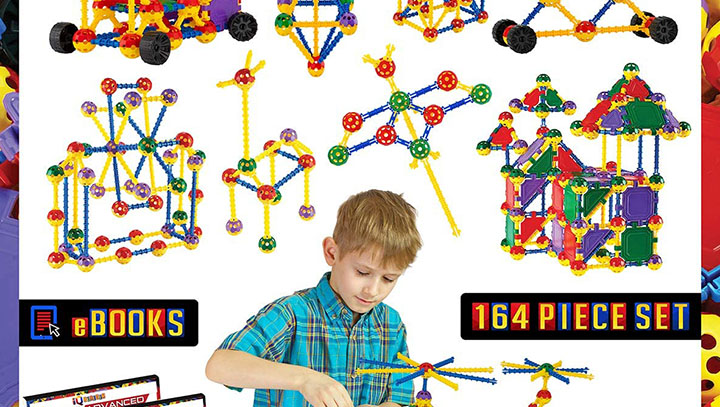 Innovative design with 40 connecting balls, 

5 wheels + wheel connectors 

88 different length ball connectors for unlimited design options

24 cover plates to colorfully decorate finished geometric designs

Easy wash with a warm water bath to prevent germs from sticking around

Toy storage box that makes for a great stocking container for when not in use
For those looking to get more to grips with the engineering side of physics, this is a great way to start. Build anything you can imagine and learn how to improve your structures with a handy book for beginner, intermediate and advanced creators. 
Learning Resources STEM Explorers, Homeschool, Magnet Movers, 39 Pieces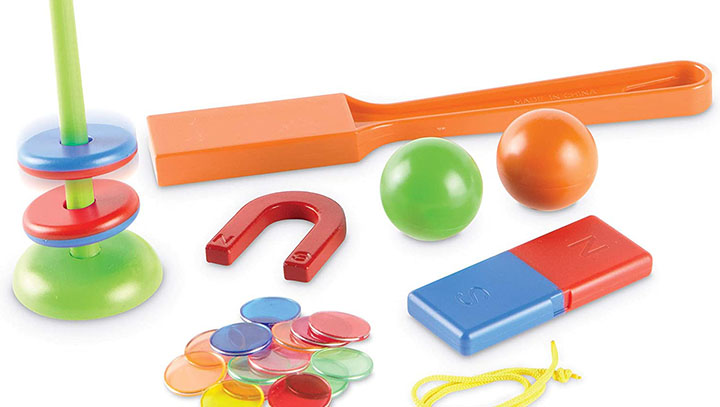 39 pieces

6 magnets

30 chips

Activity guide
This magnet set is one of the best ways to attract your children to physics. Learn about how strong magnets are and make predictions for your experiments. With additional items to play with, there really are no limits. 
All Rounder 
When they can't stop asking questions and everything fascinates them, these products may be the answer. Great all-rounders that will keep them busy and engaged by crossing over multiple subjects. 
National Geographic Earth Science Kit for kids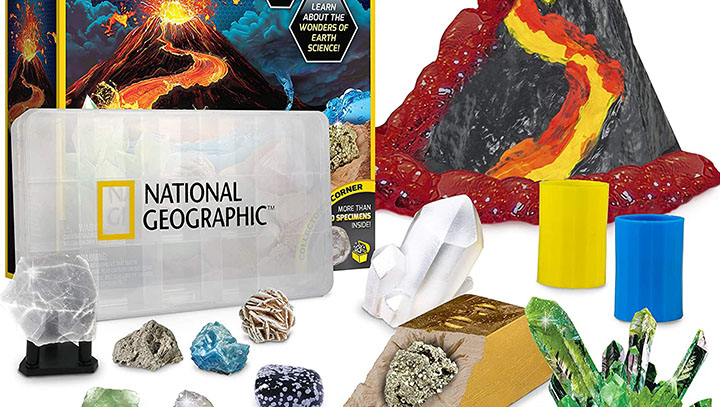 Grow a Real Crystal (in as little as 3 days!)

Create Your Own Reusable Volcano

Paint Your Volcano Anyway You'd Like

Make Your Volcano Erupt

Cause an Even Bigger Eruption

See How a Chewable Mint Candy Makes an Eruption

See How a Popping Candy Makes an Eruption

Dig Up a Rose Quartz Specimen

Dig Up Two Pyrite 'Fool's Gold' Specimens

Generate a Whirling Water Tornado

Race Dueling Water Tornadoes

Make a Glow-in-the-Dark Vortex

See a Vegetable Oil Vortex

Experiment with a Dish Soap Vortex

Read Through a Rock (Selenite)

Start a Rock Collection (with snowflake obsidian, tiger's eye, green fluorite, pumice, desert rose, blue calcite, a geode, and agate)
This science kit for kids is able to allow you to create fifteen different exciting experiments. The options are varied and sure to give your little one a passion to learn more. 
NATIONAL GEOGRAPHIC Mega Fossil Dig Kit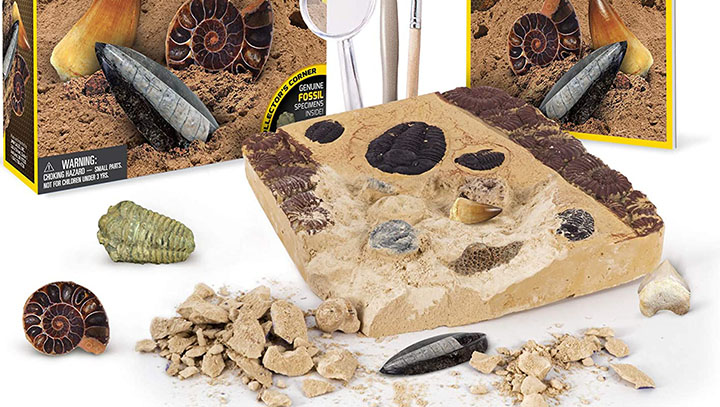 1 Large Dig Brick Containing 15 Ancient Fossils

1 Full-Color Learning Guide

1 Set of Archeological Digging Tools for Kids

1 Magnifying Glass
Travel through time as you uncover the ancient fossils of a world that once was. With this Mega Fossil Dig Kit, your children will learn all about biology, history, and of the giants that used to call our planet home!
Click here to head to Curious Reviews and find more products your little one will love
We at Curious World are passionate about your child's education. Assisting in their growth is our goal and we are always striving to offer high quality content to achieve this. We have created this list of products with your child's interests and education in mind, if you choose to purchase any of the products from this list, we may receive a small commission from the sale.