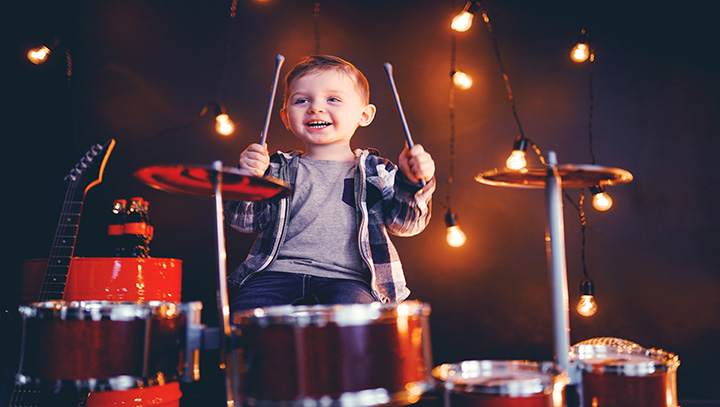 Encourage self-expression early on, with an amazing kids drum set.
With time spent at home increased in the current pandemic, you may be struggling to think of ways to keep the kids stimulated and learning. That's why a kids drum set could be the answer to your problems! There are so many benefits for starting to learn a musical instrument from a young age, from boosting self-esteem, to teaching patience. A kids drum set is a great choice as there are so many surprising benefits that it makes the perfect first musical instrument for your little one.
Benefits for learning drums include:
Reducing stress – feel-good endorphins

are released when playing drums, especially important during these hard times.

Boost Brain Power – the skills needed to learn drums has been shown in recent studies to even be able to improve people's IQ's!

Grow Confidence – the achievement of successfully learning to play an instrument and seeing positive changes in their playing, can really boost a child's confidence.

Improve Coordination – Playing drums uses both sides of the brain as you need to constantly be coordinating all four limbs. There are not many other activities that can achieve this.

Keeping fit – Using your hands and arms and moving to the beat during one drum session is a great form of exercise without even realizing it. This is a great option if your little one is currently cooped up indoors.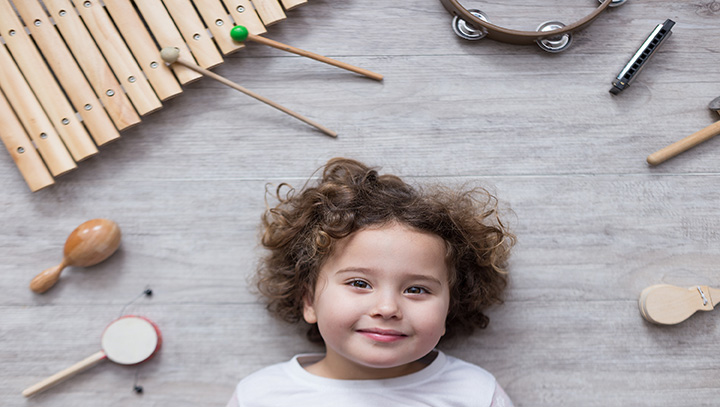 We have reviewed many products on the market to find the best kids drum set for you and your child. Below you will find clear descriptions and important information, to make your selection as easy as possible. 
Best All Rounder - TOONIT Jamz Girls & Boys Keyboard & Drum Set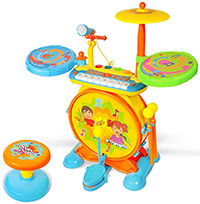 Pros:
Great for toddlers

Includes a drum set, piano, electric organ keys and stool  

Microphone and speakers included

MP3 line input

8 popular pre-set songs

Ages 3+
The Toonit Jamz kit is a great all rounder kids drum set. This unisex option has so much going for it, it is hard to pick out the best features! The actual drum set consists of two drum pads, cymbal, bass drum and pedal, plus a pair of drum sticks. There is also an easy-touch electronic keyboard and stool included. The fun really starts to happen with the pre-programmed kids songs and 7 action buttons, as well as light up colors that are activated when playing. Toddlers will absolutely love playing around on this set as there is so much to stimulate and engage them. Adults will be kept happy too as this kids drum set is easy to assemble and made of sturdy materials, meaning great value for money as will last for many years.
Best for Space Saving - PicassoTiles Kid's Roll Up Electronic Drum Kit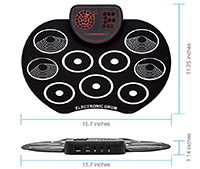 Pros:
Table top kit for space saving

Lightweight and easy to move around

Seven unique drum styles

Foot pedals included

Record and Playback Function

Ages 2-8+
This kids drum set is perfect if you are looking for something that doesn't take up much space. This sleek kit comes as one handy roll up silicone pad and also comes with a foot pedal, so your little one will not miss out on feeling like they are playing a proper drum kit. As this is a portable product they can really get the most out of this set as they can even use it outdoors. There are seven different drum styles and a variety of pre-programmed demo songs, making this great STEM drum set, the perfect choice for beginners learning how to play. As well as it not taking up a large space in your home like most kits, this drum set can also be taken on trips, so the learning and practicing never has to stop!
Best for the Rock Star Drummer - Eastar 14 inch Kids Drum Set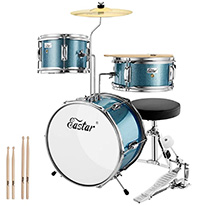 Pros:
Six color options

Child and adult drumsticks included

A 'proper' drum set

High quality kit

Excellent value

Ages 3-6
If you have a mini wannabe musician in your life, this kids drum set is the perfect one for you. As you can see from the picture, it looks just like an adult drum kit and is amazing quality for the price you pay. If you can play the drums yourself, this kit comes with adult drumsticks, making it easy for you to teach your little one. The kit consists of high strength poplar and the drum skin has a larger tension than other kids drum sets on the market, making the sound one of the best. So, not only does it have the ability to last for many years of practice, your child will also look like a little rock star when sat playing on this set!
Best for First Drum Kit - VTech KidiBeats Drum Set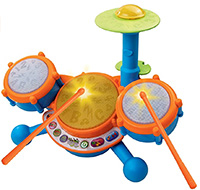 Pros:
Sensory development

Sound control (for quieter play!)

Light up drum pads

Alphabet and numbers

learning

Four modes of play

Ages 2-5
The VTech KidiBeats Drum Set is a small yet mighty piece of kit! This is the perfect first kids drum set for your child as it also includes letters, numbers and follow along modes of play, meaning they will not only get a great dose of sensory development but also educational learning. There is an option for free play, with different drum sounds to experiment with, letting them create their own rock star sound. More of an educational toy, than a proper drum set, this is a great place to start and see if drumming is something of interest before splashing out on a more expensive kit. Apart from great value, there is also a volume control button, surely making this a drum set all parents will love! 
Click here to head to Curious Reviews and find more products your little one will love
We at Curious World are passionate about your child's education. Assisting in their growth is our goal and we are always striving to offer high quality content to achieve this. We have created this list of products with your child's interests and education in mind, if you choose to purchase any of the products from this list, we may receive a small commission from the sale.